Ash & Thorn Comic Series
DISCLAIMER: Some of the links below are affiliate links. If you buy something from a Soda and Telepaths link, we may earn a commission at no additional cost to you. This is used to help maintain the site and create more content for you!
About Ash & Thorne
Ash & Thorne is a Mini Series that flips the Scooby Gang archetype of Buffy the Vampire Slayer on its head and mixes in the Golden Years sensibility of The Golden Girls. Let's face it. If your Grandmother fought monsters instead of playing Bingo at the Local Club then Ash & Thorne is what you'd get. It is written by Mariah McCourt, illustrated by Soo Lee and with Cover Art by Jill Thompson. It is published by Ahoy Comics.
Issues 1-5 of Ash & Thorne are available for Purchase right now through our Preferred Comic Book Shop or wherever you get your Comics from.
Ash & Thorn Reviews
The apocalypse is coming and pretty soon it will be upon us all. Meet relunctant Golden Girl stereotype Lottie Thorn and her relunctant trainer Lady Peruvia Ashlington-Voss. The first issue introduces us to the world of Lottie, Peruvia and the oncoming hordes of apocalypse. What does Lottie need to learn and what could
Click here for our review of Ash & Thorn #1
---
Ash & Thorne #2 continues the tale of 2 little ladies and their battles with the hordes of the apocalypse. Lottie has accepted her fate as the unwilling champion of all time and must now do what all Buffy the Vampire Slayer archetype heroes must do: Train or DIE!
Click here for our review of Ash & Thorn #2
---
Alright everyone, this is where shit is about to get really weird. Lottie and Peruvia are about to embark on a journey into dreamworld with the hopes to catch a glimpse of their own destinies. Will they like what they see? Only time (and this issue) will tell.
Click here for our review of Ash & Thorn #3
---
Lottie and Peruvia have battles the Hordes of Evil in the previous three issues – but now their fates are tearing this fab dream team apart. Will Lottie and Peruvia confront the Darkness and their Fates together or will the temptation of Evil prove to be just too sexy?
Click here for our review of Ash & Thorn #4
---
The Season finale! And the end of Ash & Thorne Volume 1. Things aren't looking good for Lottie. Things are looking dire for the Elderly Woman turned World Champion and Slayer of all things Evil. In which an elderly lass takes care of Evil the only way she knows how – by firing up the oven and start baking!
Click here for our review of Ash & Thorn #5
---
Where to find Ash & Thorn
Print – Things From Another World
Digital – Comixology
---
Engage with the Creators
Mariah McCourt – Twitter | Patreon
Soo Lee – Twitter
Jill Thompson – DC Comics
---
Purchase Ash & Thorn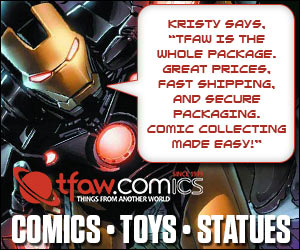 Grab a copy of Ash & Thorn #1-5 through our Preferred Comic Book Store.
---
Want more Soda and Telepaths?
---
RELATED ARTICLES:
Hellfighter Quin Comic Series
Battlecats: Tales of Valderia Comic Series