Infinite Dark #7 – on the Edge of Oblivion
As Infinite Dark's space cop protagonist, Deva Karrell, once again leaps into the unknown, discord amongst humanity's survivors aboard the space station Orpheus reaches a fever pitch. Decisions are made. Lives are lost.
The penultimate instalment in the second story arc of Ryan Cady, Andrea Mutti and K. Michael Russell's sci-fi thriller from Image Comics' Top Cow imprint does not disappoint.
One other thing I should mention that I haven't previously is the gorgeous covers on this series by Nick Robles. They're just beyond incredible.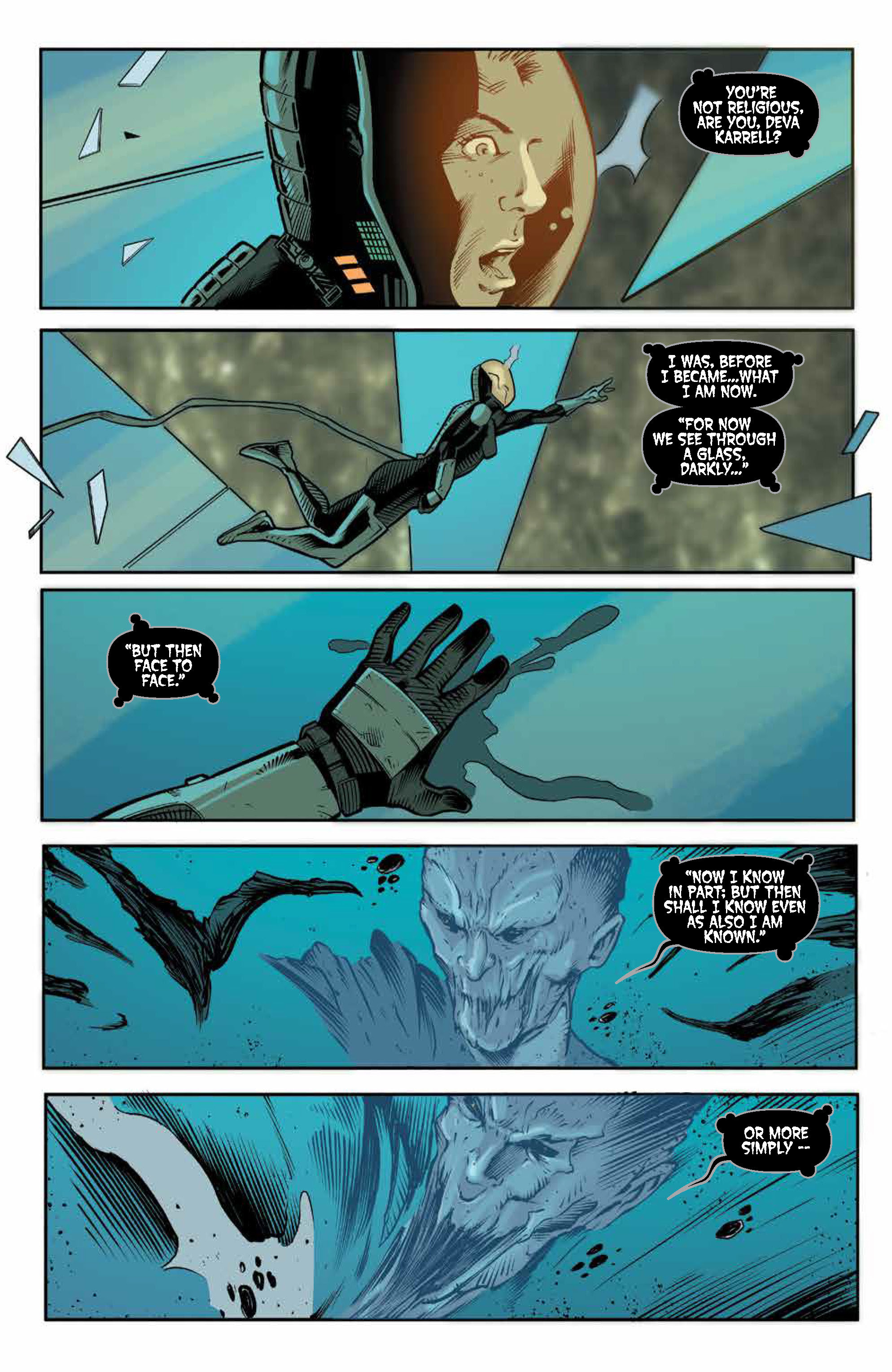 Panic and Division Rule the Station
Where Infinite Dark #6 played on the claustrophobic notion of being trapped inside a space station, inside a bubble of reality with glass walls, #7 shatters those walls, amps up the chaos, and spreads its cast in all directions.
Not only must the leaders of the Orpheus contend with a riot, but also the entropy affected scavengers who are now enacting a multifaceted plan, and a mutiny among the station's higher ranks. As the characters go about their various missions, a sense of rising panic is created by showing how vulnerable they are now that they've been split up.
Isolation and Alienation Intensify
Mutti's artwork amplifies this isolation by creating a sense of space through perspective and long shots – longer than we are used to seeing in this series. Add to this the colours from Russell, whose brilliance is exemplified by the stark contrast between colour schemes of the different locations, thereby only intensifying the alienation.
On the topic of alienation – we get to see more of the scavengers at work as they sneak about, trying to undo the reality field created by the Orpheus so that the remainder of the universe can succumb to entropy. The body horror and creepy design is more obvious in this issue, and more thrilling as Deva goes toe-to-toe with one of the monsters outside the station.
Faith, humanity and the power of forgiveness
Desperately trying to stop this is Sm1th, an AI whose faith in humanity is interesting to see from a computer character in science fiction. Somehow, it is almost fitting that the last character with faith in humanity isn't human at all. In this way, and especially in this issue, Sm1th becomes the voice of good in all of us when all other hope has faded.
Alongside Sm1th's impassioned pleas, Cady, Mutti and Russell's protagonist, Deva Karrell once again grounds the entire cast, her stream of consciousness providing a very real perspective amongst the chaos on the Orpheus – a perspective that the reader can empathise with. In the same way that Sm1th is the hope and faith in humanity in all of us, Deva becomes our sense of duty and our will to survive.
It's amazing that despite the bleakness of the world that Cady, Mutti and Russell create, the work still exudes a sense of hope that is uncommon, especially from a horror comic. There's sadness, and grim spectacle, sure, but this issue in particular emphasises the power of forgiveness, not just of others, but also of oneself. It touches everyone – from Director of Human Resources, Lynn Tennant to once villain technolinguist Kirin Tal-Shi, to Deva and Sm1th and others.
Conclusion?
Infinite Dark #7 does an incredible job of moving the series forward, and not just in terms of action (which proceeds at an appropriately breakneck pace) but also character. This is executed in a way that expands the mythos of the world of Infinite Dark towards what will hopefully be a thrilling and satisfying conclusion to season 2… and perhaps an answer to what lies beyond the now-shattered reality field.
You can pick up your copy of Infinite Dark #7 directly from Top Cow, Comixology or your local comic book store.
How did we rate Infinite Dark #7? 5 Sodas
Leave your thoughts in the comment section below.