Possession #1 Review
DISCLAIMER: Some of the links below are affiliate links. If you buy something from a Soda and Telepaths link, we may earn a commission. This is used to help maintain the site and create more content for you!
About Possession #1
Possession #1 is the first issue in a 4 issue mini-series filled with drama and erotica. It is written by Michael Norwitz and Mary Ann Vaupel, pencilled by Enrico Carnevale, coloured by Andrea Blanco, lettered by HdE and edited by Mad Moll Green.
Greek gods, super people, punk rock and erotica!? In the troubled metropolis of Santa Mira, Javier Sanchez discovers strange activity in the company where he works.  He finds himself attacked by freakish thugs, while his co-workers deal with their own dark mysteries.
Possession #1 has an average Comixology Rating of 4 out 5 Stars.
Possession #1 Review
The Possession is the brain child of writers Michael Norwitz and Mary Ann Vaupel and while its not the usual series you'd expect to be covered on Soda and Telepaths – it's still a fun romp that mixes up all the great things in Comic Books. Mythology, Superheroes, Punk Rock and Kinky Sex. What's not to love?
Possession #1 is an interesting, if not disjointed, mapping out of the Erotica series we'll come to know over Issues 1-4. Introducing us to the concept of War and Love as told in the forbidden love affair of Greek Gods Aphrodite and Ares. An affair that is neatly summarised as the B-plot that directs the actions and in-actions of the main protagonists throughout this issue.
RELATED: Possession #4 Review
Complications of incestuous Gods aside, we are introduced to an array of characters that are intertwined with one other in a variety of circumstances. Whether its the nervous employee (Cora) approaching her manager (Javier) or the HR Employee (Leilani) looking into money laundering of a Company Director (Ames). The constants of Sex and Power, specifically Power over Individuals, are explored as links to each character in our 22 page tour of the world of Possession.
Issue #1 comes to a head when Javier gets set upon a group of Monstrous looking Thugs in a local alleyway and rescued by a Punk Rock singer. Yes, that happens. As you can imagine, it's spectacular!
This introductory issue into the decadent and seedy world of Santa Mira comes across as well thought out by writers Michael Norwitz and Mary Ann Vaupel. Though it may comes across as a little disjointed in the beginning, it does round itself out towards the end of the issue which will leave you curious for the rest of the series.
You can pick up Possession #1 at your Local Comic Shop.
---
Engage with the Creators
Michael Norwitz – Twitter | Website
Mary Ann Vaupel – Twitter
Mad Moll Green – Twitter
---
Purchase some Erotic Comics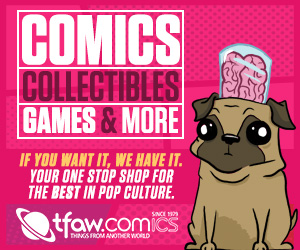 Pick up some more Erotica Comics/Graphic Novels here.