An Unkindness of Ravens #1 – Review
DISCLAIMER: Some of the links below are affiliate links. If you buy something from a Soda and Telepaths link, we may earn a commission. This is used to help maintain the site and create more content for you!
About An Unkindness of Ravens #1
An Unkindness of Ravens is a supernatural mystery comic book, with similar tones to stories like Sabrina the Teenage Witch and The Marked. It is written by Dan Panosian (Slots) with art by Marianna Ignazzi, colors by Fabiana Mascolo, and lettering by Mike Fiorentio. Dan Panosian also does some interior art and cover art.
SYNOPSIS: Centuries after the Salem Witch Trials, the descendants of the those were not drowned or burned protect the ancient secrets handed down. These descendants are known as the Ravens. Wilma is new in town, and she hopes to keep her head low as she attends a new school, but she bears an odd resemblance to a girl who recently went missing from the community, Waverly. Wilma will have to discover her power to protect herself and the coven from dire consequences.
An Unkindness of Ravens #1 is published by BOOM! Studios and is available on Septemeber 23, 2020.
An Unkindness of Ravens #1 Review
This title intrigued me from the moment I saw previews for it, so I was glad to get the chance to read and review it. The comic immediately sets up expectations for the story, which is about the witches in Salem who survived the Salem Witch Trials through rather cunning means. At the center of it all is Wilma, who is new to the town of Crab's Eye. Or is she? She bears a striking resemblance to a girl named Waverly, who disappeared not long ago. She even gets assigned Waverly's locker at Dansforth High School, which poses the question, why would they give someone the locker of a student who has gone missing?
This story's writing immediately points you toward several different mysteries in the town, from the strange sense that Wilma is replacing the missing girl to the popular kids' connections to families in Salem. With each page turn, I found myself wanting to know more about this town and its inhabitants and why Wilma is connected to them. The comic also ends on a cliffhanger, albeit an expected one, but it is enough to make me excited to see where issue #2 leads us.
Overall, it feels like a very fresh take on a story we have seen in other media before. Instead of focusing on Salem and who died during the witch trials, this story has us look at the accusers, and the families involved that survived. Where are they now? It points to a more nefarious purpose for the accusations levied at those tried as witches, and that the accusers did it as a cunning strategy to survive the Witch Trials. The comic takes place in modern-day, so many of the characters we see in the story are the descendants of those survivors.
The art style also complements the story. It has a similar style to Archie or Sabrina the Teenage Witch comics, but it is distinct enough to stand out on its own. The colors are also neutral and natural, with lots of oranges, light blues/grays, and green tones. Outside of this spectrum, colors tend to be used to highlight a character or reaction, especially purple, which seems to tie into more magical elements.
If you're a fan of Sabrina the Teenage Witch or more recent Buffy comics, I think this title would be worth checking out. I enjoy supernatural stories and the mysteries introduced in this comic drive the plot forward in a subtle way that makes it interesting. Overall, I'm looking forward to the next issue to see where the story goes and to find out more about Wilma's strange connection to Waverly and the town of Crab's Eye.
---
Engage with the Creators
Dan Panosian – Twitter
Marianna Ignazzi – Instagram
Fabiana Mascolo – Artstation
---
Pick up An Unkindness of Ravens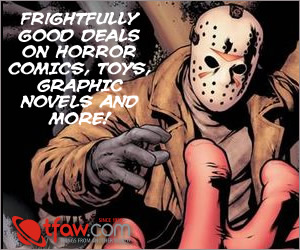 Pick up An Unkindness of Ravens #1 from our Preferred Comic Book Store.
---
Want more Horror Comic Books?