DISCLAIMER: Some of the links below are affiliate links. If you buy something from a Soda and Telepaths link, we may earn a commission at no extra cost to you. This is used to help maintain the site and create more content for you!
Ukraine Gets Annihilated in X-O Manowar #2
About X-O Manowar
X-O Manowar is an Action/Sci-Fi Comic Book series where a 5th Century Visigoth-Prince encounters a Sentient Alien Armour (Shankara) and they combine to become the Most Powerful Weapon in the Universe. Issue #2 of X-O Manowar is written by Dennis Hopeless, illustrated by Emilio Laiso, colouring by Ruth Redmond and lettering by Hassan Otsmane Elhaou. With editing by Heather Antos and Drew Baumgartner.
X-O Manowar #2 is Published by Valiant Entertainment.
X-O Manowar #2 – The Story
The beginning of Issue 2 begins with Aric (the warrior) and Shanhara (the AI inside his head) in the middle of a fight with a killer robot. After a near loss and Aric opting to use the Shanhara armour in brute force to remove the killer robots limbs – we see the robot escape at high velocity into the air. Aric and Shanhara pursue as best they can only to find the robot stops on some billionaires giant luxury yacht, before crumbling to pieces. The billionaire in question, Troy Whitaker, makes Aric an offer to use all his resources to assist Aric and daily superhero-ing.
Abruptly declining, Aric and Shanhara leave the luxury yacht without a thought to spare. Only to be face to face with another battle as they go one on one against an entire army. Supposedly of Ukraine? An army he manages to mostly take out only before one crazed maniac by the name of Yakiav has set up. Before finally, Yakiav's trap for Aric is revealed, resulting in all of Ukraine mostly blown up in a maelstrom of fire and mayhem. Leading Aric to conclude, "maybe this Troy Whittaker's offer won't be that bad?" Credits.
X-O Manowar #2 Review
X-O Manowar is a wonderful take on the Action meets Science Fiction comic book genre. Dennis Hopeless does a fantastic job at the "heads up display" chatter between Aric and Shankara whilst providing a comedic outlook on the dire situations they get themselves into. Reminding you of the Data/Picard archetype where the Android provides a bold bipartisan view on humanity as a whole. The Aric/Shankara relationship is almost akin to the Venom symbiote in Marvel Comics, were the relationship a lot less maniacal.
The complications of Aric being a man out of time, is the most intriguing backstory of the series to date. He views battle situations as a typical Visigoth from the 5th Century would but it'll be interesting over time to see if Hopeless delves deeper into his past and explores more complex layers of his personality. Despite the two dimensional layer of Aric thus far, I find Hopeless to be doing a splendid job in navigating how we view the character and how the character views the world.
Emilio Laiso, on the other hand, elevates this issue to new heights, by creating a jaw dropping Slug Fest worthy of just about any Action Film. A feat which makes the sometimes dialogue heavy panels easier to power through (pun intended). His page that shows a Ukraine blown to smithereens and pretty much destroyed is the greatest gift Laiso could give us in this Issue. A gift that could've been poorly executed were it not for the masterful colouring talents of Ruth Redmond and 'voice appropriate' lettering by Hassan Otsmane Elhaou.
While I don't always delve into the effect the Editing has had on the overall comic (and yes I know I should). Hopeless' script does feel a little dialogue heavy for an Action oriented story and could've felt like a chore to get through in quite a few panels. However, Heather Antos and Drew Baumgartner's editing work has streamlined the reading aspect of this comic to the point where you'll fly through the issue and want to read it again. And again. And again.
---
Engage with the Creators
Dennis Hopeless – Twitter | Youtube
Emilio Laiso
Ruth Redmond – Twitter
Hassan Otsmane Elhaou – Twitter | Website
Heather Antos – Twitter | Website
Drew Baumgartner – Twitter
---
Pick up X-O Manowar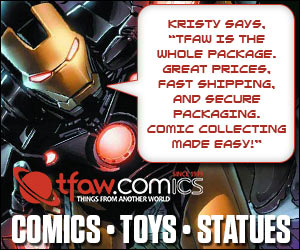 Pick up X-O Manowar #2 from TFAW.com
---
Want more Soda and Telepaths?
---
RELATED ARTICLES:
Doctor Tomorrow #4 at the Shop
Psi-Lords #1 Comic Book Review