Silk #3 Review
DISCLAIMER: Some of the links below are affiliate links. If you buy something from a Soda and Telepaths link, we may earn a commission. This is used to help maintain the site and create more content for you!
About Silk #3
Silk #3 is written by Robbie Thompson, pencilled by Stacey Lee, coloured by Ian Herring and lettering by VC's Travis Lanham. It is published by Marvel Comics.
SYNOPSIS: Silk vs. Black Cat: not looking good for Ms. Moon! Silk's been picking at the edges of Black Cat's operation and Felicia Hardy has had about enough. Plus, a last page appearance of some very familiar folks!
At time of writing this article, Silk #3 has a Average Comixology Rating of 4.4 Stars. It's available now for order from your Local Comic Shop.
Silk #3 Review
Silk #3 picks up where Issue #1 left off: yet another confrontation with Cindy's own failure of a nemesis, "Pokémon Guy." With the only difference being he's now suited and booted in a fancy upgrade suit courtesy of Black Cat. A suit of the usual Gargoyle variety.
Pokémon Guy spends the first half of the book trying to get vengeance on Silk only to trigger a PTSD episode of Cindy's. In which we are given a further glimpse into her time in the bunker and her rage she felt to those that trapped her there.
Cindy puts down Pokémon easily and hears his sob story of being an ex-con with prior combinations. How it's hard to provide for his daughter and how this has led him to working for the Black Cat. Cindy, despite her better judgement, helps Pokémon guy and he looks to be turning over a new leaf.
Not before Black Cat appears to give Cindy the whooping a life time. Cindy gives Black Cat the slip and makes it back to the bunker only to be ambushed by Spider-Man and the Fantastic Four.
It's great to see Cindy's backstory continue to unfold as she faces new and interesting challenges. Even if those challenges are an overdressed minor criminal cosplaying as Goliath from Gargoyles.
I'm enjoying the gradual growth and acceptance that she is dealing with post traumatic stress. Even if it's not specifically by name, I'm still feeling for Cindy as she tries to overcome literally everything life is throwing at her. Thompson's scripting makes for a fun read but it's Lee's artwork that's the lifeblood of her character.
Silk reads and feels like a YA comic book series but has enough understanding of the Spider-Man universe to keep even the most seasoned reader entertained. If I had a teenage daughter I don't know why I'd have her read anything else. These first three issues are full of heart all the way through. 
Pick up Silk #3 through your Local Comic Shop.
---
Engage with the Creators
Robbie Thompson – Twitter
Stacey Lee – Twitter
Ian Herring – Tumblr
Pick up a copy of Silk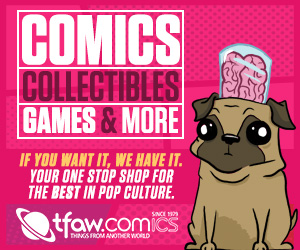 The Silk miniseries is available at your Local Comics Shop or through our preferred Comic Book Store: Things From Another World.
---
RELATED ARTICLES:
Silk (2015) #1 Review
Silk (2015) #2 Review