John Carpenter's Night Terrors: Graveyard Moon – Review
DISCLAIMER: Some of the links below are affiliate links. If you buy something from a Soda and Telepaths link, we may earn a commission at no cost to you. This is used to help maintain the site and create more content for you!
About Night Terrors: Graveyard Moon
John Carpenter's Night Terrors: Graveyard Moon is Written by Steve Niles, Pencilling by Steve Scott, Inks by Rodney Ramos, Coloring by Lovern Kindzierski and Lettering by Janice Chiang. With Editing and by Publisher, Sandy King. At time of this article, Night Terrors: Graveyard Moon has an Average Comixology Score of 4 Stars.
SYNOPSIS: The crew of a cargo ship that transports the dead for burial on a designated Graveyard Moon find themselves overwhelmed by unspeakable horror… surrounded by the ghosts of the dead they carry. 
In the not so far future, Earth no longer has space for graveyards. Callisto, a rocky moon of Jupiter, has become designated as the graveyard planet, but only the wealthy can afford a proper burial there. Cooper and his longtime crew prepare to transport a load of the dead, having flown this route many times over. But their routine trip to the graveyard moon is disrupted by deception and greed… and they find themselves under siege by the ghosts of the dead they carry.
Published by John Carpenter and Sandy King, Graveyard Moon has all the vibes of an 80's horror/sci-fi thriller to get you in the mood for Halloween, while simultaneously giving you a healthy dose of nostalgia.
Night Terrors: Graveyard Moon Review
Graveyard Moon is a familiar feeling concept in some ways, yet stands on it's own quite well. Aspects of traditional horror blended with sci-fi space elements to give us a feel similar to The Thing meets Alien meets zombie movie. For a comic that's 66 pages long, it really flies by. The action starts quickly, filled with twists that keep you interested. That frequently revisited theme of being trapped with the threat lends to a claustrophobic atmosphere that can cause some unease with readers.
Something about the art just feels like I'm watching an old movie, but in all the best ways. The fantastic atmosphere, the horror tropes, and even some Kelley Jones-esque art – which is perfect, because of the gorgeous cover by Kelley Jones and Michelle Madson. Everything feels cold and sterile, from the ship to the uniforms, with the cool colors, which lends to the cold interactions between the crew. Then suddenly chaos erupts, and the dead bring a new vibrance to the pages, which is fascinating. Panels are brought to life by blood, bursts of red, and the bold colors relating to the dead uprising.
The only mild complaint I have almost isn't a complaint at all. I wish there was a bit more to it. More fleshing out of the characters, the world and why the rich want to bury their dead, more of the dead, etc. I would have read 150 pages of Graveyard Moon, just for more story alone. But, it works in the length it's in, so really, it's not much of a complaint.
It's understandable why this is part pf John Carpenter's Night Terrors series of graphic novels – it feels completely like it could be a John Carpenter film. Definitely grab this for yourself from Storm King Comics if it sounds like something you'd be into!
---
Engage with the Creators
Steve Niles – Website
Steve Scott – Deviantart
Rodney Ramos – Twitter
Lovern Kindzierski – Twitter
Janice Chiang – Twitter
Sandy King – Website
John Carpenter – Website
---
Pick up some Horror Comics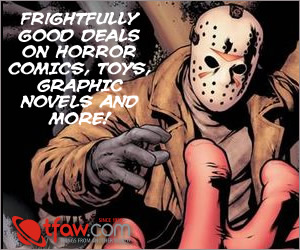 Pick up some Horror Comics from Things From Another World which includes Massive Discounts off their entire Horror Comic Book Range.
---
RELATED ARTICLES:
Descent Into Dread – Anthology Review
Eli Roth's History of Horror – Podcast