Alias #10 Review
DISCLAIMER: Some of the links below are affiliate links. If you buy something from a Soda and Telepaths link, we may earn a commission. This is used to help maintain the site and create more content for you!
About Alias #10
Alias #10 is a Matured Aged comic book featuring Jessica Jones as the protagonist. It is written by Brian Michael Bendis, art by Michael Gaydos and cover by David Mack. It is published by Marvel adults only imprint Max.
Why does the one and only J. Jonah Jameson want Jessica for a job? And can she work for scum like him? A special stand-alone issue!
Alias #10 has an average ComiXology Rating of 5 stars. You can pick up this comic book as a Trade Paperback from our Preferred Comic Book Shop.
Alias #10 Review
The Alias comic series is famous for its multi issue storylines. Issue 10 is that rare gem which stands alone as a self contained comic book. Giving us an insight into Brian Michael Bendis' scriptwriting chops when taken out of the traditional comic book panel format.
Clocking in at only 16 pages, Jessica Jones has been called into the Daily Bugle to meet with Spider-Man serial pest and loud mouthed business owner J. Jonah Jameson. The issue kicks off with Jessica waiting in the Bugle office and there's no surprises here that Jameson is the type to leave people in the waiting room.
Alias #10 abandons the traditional panel format. Instead opting for selective bites of dialogue neatly positioned around each splash page of beautiful art. Courtesy of one Michael Gaydos.
This works well with this dialogue exchange between Jameson and Jones taking up the majority of the story. There's lots of back and forth. So much, in fact, it feels like you're reading a TV script accompanied by Michael Gaydos art.
The story itself is about Jameson pitching his idea to Jones to find out the real identity of Spider-Man. The lunacy doesn't end there with his pitch. He also wants one of his reporters to follow her as he does so.
Pretty soon we find out amidst a humorous exchange between Jameson, Robbie and one of his reporters that Jessica has been swindling the Bugle by invoicing for money to feed homeless people as Detective case "expenses." It's a royal screw job by Jessica and it's absolutely priceless.
Baydos gives a masterclass of back and forth script work in this issue. Although, not of great use to an aspiring comic book writer. Alias #10 plays into the negative space of little descriptive narrative which dictates the imagination of the reader. While Michael Gaydos' illustrations are beautiful to the eye with his oil painting meets grit-noir aesthetic.
Pick up Alias #10 from your Local Comic Shop. 
---
Pick up a copy of Alias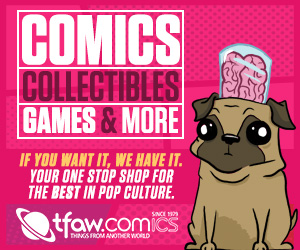 Pick up a copy of Alias #10 from your Local Comic Shop.
---
Want more Soda and Telepaths?