[REVIEW] INFINITE DARK #6 shows Entropy is Still the Enemy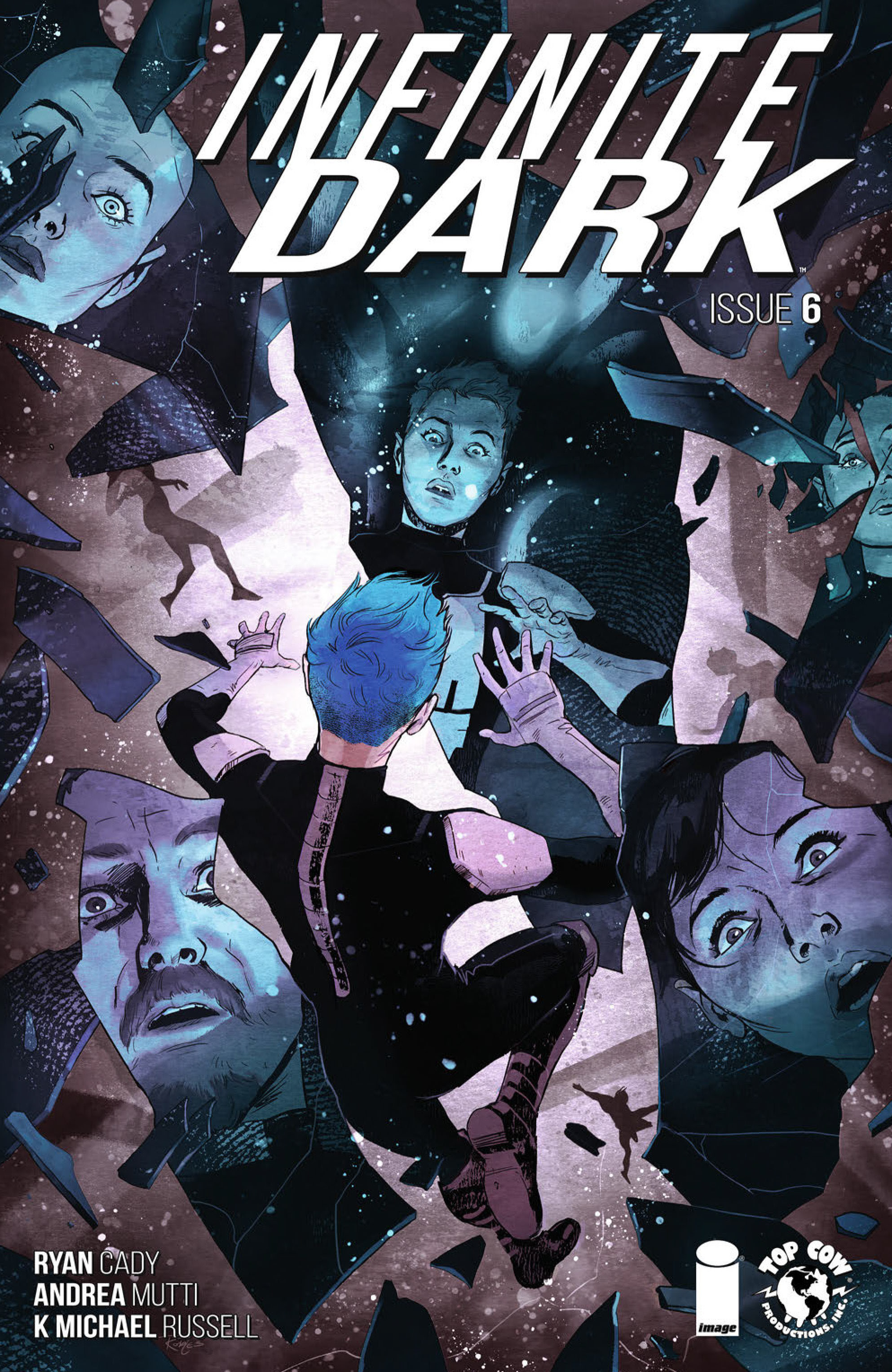 INFINITE DARK #6 only gets stranger…
Ryan Cady, Andrea Mutti and K Michael Russell's INFINITE DARK, which is published by Image Comics' Top Cow imprint blends hard-boiled detective fiction into science fiction and horror to make something surprisingly new.
The book's plot centres around the denizens of the Orpheus, a space station on the edge of reality, housing the last survivors of the heat death of the universe, in particular, space-cop-du-jour, Director of Security Deva Karrell and a terrifying entity from outside of reality itself.
Extradimensional monstrosities on a spaceship may seem like a tired trope, especially for anyone who has seen 1997's legendary flop, Event Horizon, but Cady manages to ground Infinite Dark with characters that feel real (which should in no small way also be credited to Mutti's expressive character art) and a monstrous villain that's a metaphor for survivor's guilt.
Survival is Strength of Character
Infinite Dark #6 begins where #5 left off, with Deva Karrell imprisoned and the Orpheus on the verge of civil unrest. While in the first arc, Deva managed to fend off the Entropy entity outside the station, its darkness has now infiltrated the populace, and nobody is safe.
In 22 pages, Cady manages to create a chaotic symphony of compelling characters reacting to the fire of discord aboard the Orpheus, including the station's directors, the now-embodied AI, Sm1th, the station's populace, once villain Kirin Tal-Shi, and Deva Karrell herself.
A new mystery arises for Deva and Kirin – what do the entropy exposed Scavengers want? This is set brilliantly against the chaos of newly erupted civil unrest, a fire stoked by the scavengers themselves, which presents the leadership of the Orpheus with a new existential threat, and a far more human one. In this, Cady asks a question that is both familiar and alien – what is the point of surviving if we lose our humanity in the process?
While Infinite Dark spends a lot of time in Deva's head, it never feels overwrought, and Deva's struggle with survivor's guilt – from losses both far in the past and more recent– only adds to the sense of fear and claustrophobia brought about by being the last light left in the universe.
The Walls of Reality are closing in
This sense of claustrophobia is only intensified by Mutti's linework and Russell's colours, especially since the events of the first arc hardened the walls of reality to create a literal wall between the Orpheus and the infinite nothing of entropy. When compared with previous issues in the series, the pages of this issue are packed with panels, particularly vertical panels, and more people appear in frame than in any previous issue. This combines to enhance this claustrophobic sensation, adding to the rising panic and paranoia.
The character design of the scavengers, seen in full view in this issue, also adds an element of body horror to the deep-seated psychological horror of the opening arc, without feeling camp or overdone. They feel imperfect and alien, providing a brilliant contrast to the clean lines and orderly construction of the human characters.
Conclusion?
While Infinite Dark was originally only planned as a 4 or 5 issue miniseries, the sophomore issue in Cady, Mutti and Russell's second arc expands into darker mysteries and delves deeper into its characters than the first arc ever could, and it definitely feels like they have more story to tell. Where the horror or science fiction elements could have overtaken the story completely, it still feels like a gripping detective story that leaves you both guessing what could happen next and terrified of what could be lurking out there in the great beyond.
You can pick up your copy of Infinite Dark #6 directly from Top Cow, Comixology or your local comic book store.
How did we rate Infinite Dark #6? 5 Sodas
Leave your thoughts in the comment section below.
Writes about the law by day. Reads, writes and writes about comics by night. Unhealthy television addiction. If found unconscious, buried under several half-finished novels, please return to Sydney, Australia.